IRS Tax Settlement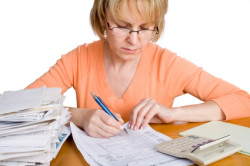 Are you suffering from tax debts that have spiraled out of control? Are you worried about what will happen if you don't find a tax resolution? If your tax debt seems insurmountable due to penalties, fees, and interest, you should consider your options for a tax settlement. Tax settlements are designed to help those who struggle with unpaid tax debts find manageable ways to pay back what they owe to the IRS. If you think taxes settlement is the right option to handle your tax issues, getting advice and assistance from a tax advocate at Acello Tax Resolution Group is your best bet.
Our team of IRS settlement experts offers assistance to both individuals and businesses in the Jacksonville area, so you can turn to us whenever you're facing tax concerns. Whether you're dealing with an IRS tax lien or you're trying to avoid one, our trusted tax consultants can help. From assisting you with negotiating installment agreements to helping you file for an offer in compromise, we can provide you with some of the most comprehensive IRS help available!
If your finances are suffering due to an IRS tax lien or other issue with outstanding tax liabilities, finding IRS tax relief right away is the best course of action. Obtaining the right IRS tax settlement option is, however, no easy feat, especially if you're trying to achieve this on your own. Fortunately, you don't have to handle tax problems alone. With one call to the pros at Acello Tax Resolution Group, you can get the IRS help you need to solve your tax issues. Our tax consultants will work closely with you from start to finish to ensure that you get the best possible solution to your tax troubles. From determining which taxes settlement options are right for your situation to helping you file the necessary paperwork and negotiate with the IRS, we've got your needs for tax debt reduction covered. When you need tax settlement help that will fit your specific needs, we'll be sure to connect you with the right member from our network of IRS settlement experts to get you great results.
Offer in Compromise Assistance
One of the most desirable tax settlement options out there is an offer in compromise. It's so popular with taxpayers because it results in tax debt reduction if you agree to pay off the remaining balance in full. Because it offers such a great deal for taxpayers, an IRS offer in compromise is not always easy to obtain. That's why you need help from the tax specialists at Acello Tax Resolution Group. We'll do everything we can to help ensure you make the best case for acceptance by the IRS. From helping you determine your eligibility to filling out the required paperwork, you can count on us to help make the process as smooth and simple as possible.
If you need IRS tax help, Acello Tax Resolution Group is here for you. Rather than let the stress of unpaid taxes cause you frustration, pick up the phone and call us. Our network of tax advocates includes CPAs, enrolled agents, and IRS tax lawyers, so you can rest assured that we have the expertise necessary to address any tax problem. We aim to be your top source for tax debt settlement services in the Jacksonville area, and we're ready to help you solve even the most pressing tax issues right away!
taxes settlement
tax settlement
tax advocate