Payroll Tax Problems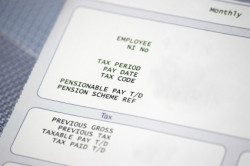 Owning or managing a business comes with a list of responsibilities that can often seem endless. From dealing with customer concerns to managing employee schedules, there's so much for you to handle every day. Given how much responsibility business owners face, there's little wonder that sometimes IRS payroll issues pop up. From missing filing deadlines to completing forms too quickly, mistakes can easily occur. If you're currently experiencing tax issues due to unpaid payroll taxes or filing errors, you need to seek business tax relief right away. Fortunately, you can rely on the business tax debt experts at Acello Tax Resolution Group. Serving Jacksonville and beyond, we're here to provide you with company tax relief solutions that will sort out your payroll issues. Get help solving your business tax problems today by calling or e-mailing Acello Tax Resolution Group!
If you're struggling with IRS payroll problems, handling them right away is your best bet for limiting the damage to your finances. Waiting to take care of unpaid or misfiled payroll taxes can lead to severe penalties and other tax problems that could spell disaster for your business. In some cases, unpaid tax liabilities can even result in the closure of a business. There's no need to expose your company to such risks when one call to the business tax relief pros at Acello Tax Resolution Group can help. Our network of tax specialists includes enrolled agents, CPAs, and tax lawyers. We can help you with a wide range of different business tax debt situations, including:
Late tax returns
Filing mistakes
Business tax debt
Bookkeeping errors
Misclassification of employees
And other business tax problems!
Practically no matter what kind of trouble your IRS payroll taxes are causing your business, our tax consultants can find an appropriate solution. We're willing to go above and beyond the call of duty to help you achieve financial security for your business, so there's no reason to delay in contacting us for payroll tax help.
Comprehensive Company Tax Relief Services
If you're in need of company tax relief to help you deal with payroll tax problems, it's best to work with tax pros who know what it takes to meet your needs. When you turn to Acello Tax Resolution Group for help dealing with your payroll tax issues, you can rest assured that we'll be able to offer you help for your specific tax issues. We never take a cookie-cutter approach to solving company tax problems, and we'll be sure to discuss your specific circumstances with you before pairing you with the right tax pro for the job. We know that what works for one taxpayer won't always work for next, and we'll do our best to provide you with tax resolution options. 
For payroll tax help you can count on, call or e-mail Acello Tax Resolution Group right away!
irs payroll
payroll tax penalty
payroll tax help